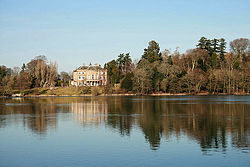 As Scotland basks in the full sun of summer, Our Linen Stories Tour continues this month as we bring the exhibition to The Scottish Borders:
Thursday 26th to Sunday 29th July
10am to 4pm daily.
Free to enter and all welcome.
At each tour stop we deepen Our Linen Stories themes, examining how design relates to specific contemporary concerns and adding objects that give historic context and flag up potential linen futures. In Leith we looked at 'Migration and Creative Industry': the powerful force for good that incomers can bring to a country's culture and economy.
In two weeks time we'll be at The Haining, a magnificent mansion house in Selkirk celebrating 'Patronage and Prizes' – the role that commissions and awards play in developing product and production with a focus on 'Design and Damask'. We exhibit prized items including a damask sample prepared for a wealthy client by a Belfast firm: found by your curator's father buried at the back of the old family linen press!
If you're based in The Borders or plan a tour through this beautiful part of Scotland, we'd love to see you in Selkirk at this stunning House we call home from Thursday 26th to Sunday 29th July; details on Our Website.
Borders Opening Reception: Thursday 26th 6-8pm, entry and refreshments free
Hayley McCrirrick Artist Talks: Saturday 28th 2-3pm, free tickets via Eventbrite
Treasure Hunt at The Haining: Sunday 29th 2-4pm, win a Selkirk Summer Hamper
With warm wishes for continued summer sun,
from all at Journeys in Design
Image Courtesy of The Haining Estate, Selkirk
Post Script We are very grateful to His Grace the Duke of Buccleuch for his generous loan of Napery from Bowhill House on display during our exhibition in Selkirk at The Haining.