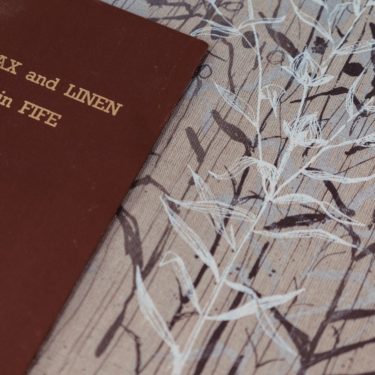 2020 Flax Fields: a call to sow and celebrate in Scotland
Following the success of our 2019 endeavour we are calling on Flax Field partners throughout Fife and further afield in Scotland to grow some flax with us through the summer o2020. Colleagues on the continent sow in spring but we can avoid late frosts and favour a Scottish harvest by delaying until June.
Guarding against weeds in the first 4 weeks allows establishment of a hardy crop. Over 100 days, the flax will grow almost to 100 cm and after just 2 days of the characteristic blue flower, a shiny green seed head gradually turns brown to signal the maturing plant. Harvest with us in the autumn by pulling up the plant, root and all. We can gather with you and distribute to process, spin and weave as in former times.
We will develop a self-guided tour seeking to support a thriving craft, maker and design sector in Fife.
2019 The Flax Fields of Fife:  Contemporary Design Mapping Project
Using our old charts, maps and records, we're plotting Journeys in Design Routes through Fife, drawing on rich local agricultural and industrial heritage to highlight current Design initiatives. The Kingdom of Fife offers Linen Stories in Scotland unlike any other county and we're calling for your help in mapping these, old and new.
You may be engaged in growing flax, experimenting with plant fibre materials or making with linen thread or textile yourself or you might know someone who is…We are developing a route around Fife where folk can see evidence of past or present flax fields, linen manufacture and contemporary design initiatives, offering opportunities to visit makers and to purchase design items en route from studios and shops.
If you'd like to help,  please email us info@ourlinenstories.com with add a comment to identify your particular interest