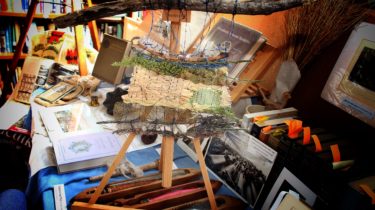 For complete beginners – a workshop and informal talk about weaving.
Inspired by the weavers met during Our Linen Story Tours in Scotland, Journeys in Design is supporting the development of local 'Wild Weaving' workshops.
In Edinburgh our Inaugural Workshop Lead is weaver Akshata Mokashi MA (Distinction) HWU Textile and Design. Akshata is joined by Guest Weavers to discuss elements of Weaving Practice. We are delighted to partner with Artiscience Library and Summerhall.
Attendees weave the weft of a pre-warped frame using materials found during a preceding walk in The Meadows, harnessing the hand-crafting and meditative benefits of walking and weaving. Dress for the weather. All materials and light refreshments provided.
Following a lunch break, workshop attendees are invited to stay for an informal talk by our Guest Weavers from 1.30pm to 2.15pm which is also open to others (capacity 30 in total).