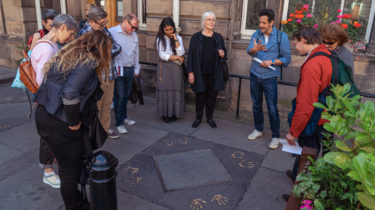 Walking out from Dovecot Studios, we trace the development of shopping in the capital from linen halls, luckenbooths and lawnmarkets to draperies, department stores, stopping at contemporary design interventions en route. (September, October, November and January)
Our free 90-minute stroll through Edinburgh's Old Town. Dress for the weather with footwear to tackle Edinburgh's rambling cobbled streets.
This Saturday Stroll was part of our January 'creative cluster' of free events bookable on Eventbrite.
Twilight Talks about Design (Thursday at Dovecot)
Wild Weaving Workshop and Weavers Tales (Friday at Summerhall)
Exhibition Highlights Tour (Saturday at Dovecot).
This Saturday Stroll is the latest of the Walks by Design established by Journeys in Design in 2015, celebrating creative interventions past and present during 90 minute walks in urban landscapes throughout Scotland.