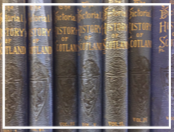 It is with real sadness and respect that we acknowledge the passing of
Jim Adams this weekend in Edinburgh.
Jim and Betta Adams have been supporters of our journey since inception in 2014.
Wherever our journey led, Jim was never without pertinent facts at his fingertips, taking joy in their sharing:
we'll miss his erudition and insightful nudges in the right direction.
Place-Making and Creative Industry
Expert Panel and Engaged Audience
This Thursday 17th May 6.30 – 8.00pm
Free entry and refreshment
Details and reservations here
Weaving a Textured History
Helena Loermans, Dutch weaver
This Saturday 19th May 2.00 – 3.30pm
Free entry and refreshment
Details and reservations here
With good wishes
From all at Journeys in Design
Image courtesy of The Haining Estate, Selkirk