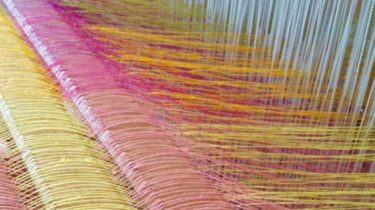 Journeys in Design recognises the power of Creative energy in helping all of us to heal and thrive.
The academic literature across several disciplines testifies to the benefits of Creative endeavour – easing the troubled mind through focus away from self and in fellowship with others.
We continue to support and collaborate with several groups that share this belief: in Scotland we cite Art in Healthcare, The Art Room, The Yard and ArtLink as examples of such efforts. Each has grounded their work in well researched and expertly resourced interventions. Please visit their websites to find out more and offer your own support if you can.
Journeys in Design continues to develop a contribution in this area too. During Our Linen Stories Tour we are reaching out to vulnerable groups where access to similar interventions is a challenge. We are bringing a small group of folk with mild to moderate dementia and their carers together for three consecutive afternoons. Using a simple weaving frame and led by a weaver experienced in workshop delivery, we hope to enable productive time together for people and their carers in calm surroundings utilising a tactile sensory activity known to ease anxiety.
In developing our 'Weave for Well Being Workshops' we are grateful for guidance from several experienced practitioners including Jo Kessel  to Luminate and to Age Scotland.
Our Linen Stories opens on Saturday 5 May in Leith and tours to Selkirk, Kirkcaldy, Badenoch and Lisburn in the coming months. We hope to see you there.
Very best wishes
John and Eilidh
Image courtesy of Helena Loermans
POST SCRIPT
Our Weaving Workshops require greater lead time than was available during our Leith exhibition when focused for those with established dementia. We are happy in the meantime to arrange curator tours and were able to offer this to the Living Memory Group as evidenced in our Facebook posts. This mailing generated helpful discussion. We are working with Artlink to offer a focused workshop.