Join weaver researcher Susie Redman at her studio in Burntisland, together with guest poet Sheena Barry for this special open door event.
About this event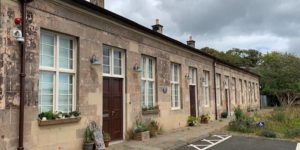 Welcome to the design studio of weaver and researcher Susie Redman at Platform Studios Burntisland, a building converted from derelict station waiting rooms in 2012 by Fife Historic Buildings Trust. Susie has explored the the nature of flax first hand over several growing seasons with a small plot in nearby Kinghorn. With her linen yarn and textiles on display, Susie discusses wider linen cultures while demonstrating a weave on her loom. For this special doors open, poet Sheena Barry reads some of her work, resonant of today's event.
Susie's Platform Studio Doors Open is part of Scotland's first Flax and Linen Festival from Journeys in Design, with an allied Exhibition in Kirkcaldy and satellite events throughout Fife.
*Participation is free of charge