Join us on a stroll through streets full of linen stories, exploring heritage and contemporary design as we walk and talk.
About this event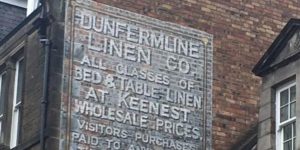 Welcome to Dunfermline, along with Cupar and Kirkcaldy, one of Fife's three premiere Linen Towns. Taking her linen heritage and urban design as themes, this walk includes Dunfermline's oldest dwelling, once a weavers cottage, and its newest culture hub, where industrial linen weaving is celebrated. Our route focuses on linen factory sites and family stories, including Dunfermline's famous damask heritage, which continues to inspire her urban regeneration. We begin in the carpark of the Andrew Carnegie Birthplace Museum, this migrant son of a local linen weaver. Share your thoughts as we walk and talk.
This walk is part of the inaugural Flax and Linen Festivals Scotland from Journeys in Design. Our Festival Hub in 2021 is in Kirkcaldy with events taking place throughout Fife.
*Participation is free of charge