Proprietors Michael and Jonathan air their linens, joining a display of damask and laundry kit from enthusiasts Margaret and John.
About this event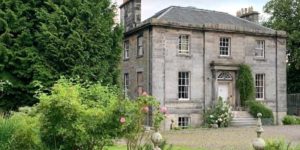 Welcome to Auchtertool House, a Category B-listed Georgian house built around 1830 with 3 acres of garden, shrubs and mature trees. In their possession for 5 years, your hosts Michael and Jonathan air the contents of their Linen Press together with finds from co-curators Margaret and John, in a display of linen damask and laundry kit from yesteryear. Join us for tea and chats on the lawn.
Auchtertool House Doors Open is part of Scotland's first Flax and Linen Festival from Journeys in Design, with an allied Exhibition in Kirkcaldy and satellite events throughout Fife.
*Participation is free of charge