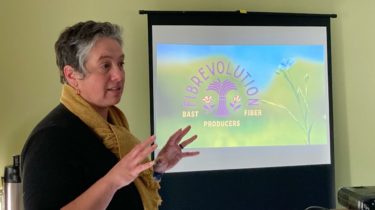 Fibreshed: local fibres, local dyes, local labour
Fibreshed is an international network born in California USA encouraging the development of an ecological approach to textiles; it's tagline is 'local fibres, local dyes, local labor'.
The textile industry accounts for more waste than any other sector and is associated with unhealthy labour conditions, monocultural farming resulting in a loss of biodiversity and soil depletion, and the harmful introduction of pesticides and synthetic dyes; long-haul supply and distribution chains add to allied damage.
The term 'regenerative textiles' is used here to emphasise that methods of textile production can walk more lightly on the earth with potential to enhance the planet, rather than continue to extract and exploit. By keeping production local, growing natural fibre and dye sources, and employing ecologically-sensitive farming and production methods, textiles can go "soil to soil".
Can we develop a Fibreshed for Scotland?
Scotland is up for the challenge, already prioritizing both well-being and circular economies: creating regenerative textiles is part of a growing culture shift that has its roots in our heritage and our contemporary concern for the most pressing issue of our time, climate change.
Journeys in Design has begun to collate ideas and links across Scotland with a bioregional focus in Fife, and we're looking forward to supporting further developments as more interest in regenerative textiles grows.
In September 2021, we were delighted to welcome Fibrevolution founders Shannon Welsch and Angela Wartes-Kahl, to our Think GLOBAL Grow LOCAL Roundtable. Fibrevolution is an part of the Pacific North West Fibreshed.
In October 2021, we convened a meeting at The Ecology Centre near Kinghorn Fife, to discuss the potential for Fibreshed in Scotland, having circulated details of the Fibreshed network, and the many and varied interpretations now affiliated worldwide.
Presenting at our first meeting were:
Angela Wartes-Kahl: of 'Fibrevolution' and co-founder of Fibreshed Pacific North West
Rosie Bristow: MSc Heriot Watt researching mechanised flax processing equipment
Prof Jane McCann: textiles innovator and design lead for Invest N.Ireland Fibre Development
In March 2022, we convened a further meeting at Bowhouse Farm near St Monan's Fife, sharing our common values and to begin the road to affiliation for Fibreshed Fife, celebrating our existing practice with a 'show and tell' of nettle, flax and wool fibres.
Presenting at our second meeting were:
Are you interested in supporting a Fibreshed for Scotland?