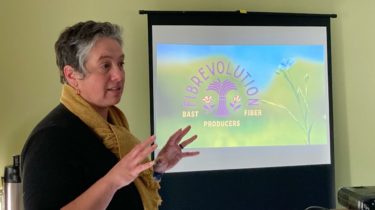 Fibreshed: local fibres, local dyes, local labour
Fibreshed is an international network born in California USA. They exist to encourage the development of an ecological approach to textiles. It's tagline is 'local fibres, local dyes, local labor'.
The environmental impact of fashion, especially 'fast fashion', is well documented. The textile industry is one of the top three most polluting industrial sectors in the world. As well as being associated with unhealthy labour conditions, modern textile production is also relies heavily on monocultural farming. This results in soil depletion and a loss of biodiversity. The harm is amplified by the industry's widespread use of pesticides and synthetic dyes. Fast fashion and long-haul supply and distribution chains add to allied damage.
You may have heard the term 'regenerative textiles'. We use the term here to emphasise that there are methods of textile production which can walk more lightly on the earth. There are ways of producing textiles which have the potential to enhance the planet, rather than continuing to extract and exploit. By keeping production local, growing natural fibre and dye sources, and employing ecologically-sensitive farming and production methods, textiles can go "soil to soil".
What is a Fibreshed?
The following explanation is from Fibreshed south west England's website
"Much like a watershed, a Fibreshed is a designated area within which efforts are made to harness and use natural resources – in this case fibres, dyes and labour – in a responsible way that minimises waste and creates opportunities not just for sustaining these resources, but for improving them over time in positive feedback cycles.

In other words, the Fibreshed ethos goes beyond sustainability, to something that is truly regenerative and it does this by considering the whole system in which fibres, textiles and garments are not only produced, but also how they are worn and how they are disposed of."
Can we develop a Fibreshed for Scotland?
Scotland is up for the challenge. We already prioritise both well-being and circular economies. Creating regenerative textiles is part of a growing culture shift that has its roots in our heritage and our contemporary concern for the most pressing issue of our time, climate change.
Journeys in Design has begun to collate ideas and links across Scotland with a bioregional focus in Fife. We're looking forward to supporting further developments as more interest in regenerative textiles grows.
In September 2021, we were delighted to welcome Fibrevolution founders Shannon Welsch and Angela Wartes-Kahl, to our Think GLOBAL Grow LOCAL Roundtable. Fibrevolution is an part of the Pacific North West Fibreshed.
In October 2021, we convened a meeting at The Ecology Centre near Kinghorn Fife, to discuss the potential for Fibreshed in Scotland, having circulated details of the Fibreshed network, and the many and varied interpretations now affiliated worldwide.
Presenting at our first meeting were:
Angela Wartes-Kahl: of 'Fibrevolution' and co-founder of Fibreshed Pacific North West
Rosie Bristow: MSc Heriot Watt researching mechanised flax processing equipment
Prof Jane McCann: textiles innovator and design lead for Invest N.Ireland Fibre Development
In March 2022, we convened a further meeting at Bowhouse Farm near St Monan's Fife, sharing our common values and to begin the road to affiliation for Fibreshed Fife, celebrating our existing practice with a 'show and tell' of nettle, flax and wool fibres.
Presenting at our second meeting were:
Are you interested in supporting a Fibreshed for Scotland?
Drop us a line and sign up for our newsletter to be the first to hear about our exciting plans for a Fibreshed in scotland.