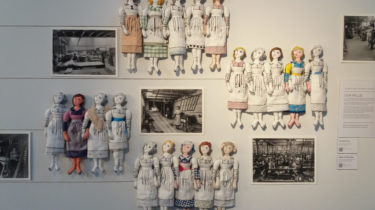 A linen tea towel tribute to working women of Scotland and beyond.
Making Millie 
Linen mill workers – 'Millies' – formed the backbone of the first industry to emerge from Scotland and Ireland and much of Europe: hard-working, multi-tasking and super-skilled. At the peak of linen trading in the early 20th century, tens of thousands of women were employed to support the economy of a continent. Though a tiny fraction of jobs persist, many of us have a Linen Millie amongst our families or those of friends.
2018 Linen Millie Journeys in Design commissioned illustrator Sue Shields to create a tea towel tribute to these working women. The design includes a cut-out pattern and instructions to assemble a Linen Millie doll, a focus for crafting skill and memories old and new.
The prototype pattern was displayed during Our Linen Stories 2018 tour to Lisburn Cathedral in N.Ireland and the first doll was created in time for our 2019 revisit to the Irish Linen Centre and Lisburn Museum in May 2019; the Museum gratefully accepted a Linen Millie into their permanent collection at this time.
2019 Oor Millie A special display comprising 18 individually made and marked Linen Millies was created for Our Linen Stories Exhibition and Events series in Edinburgh at Dovecot Studios  in September 2019. 'Oor Millie' is a nod the famous Scottish comic strip character 'Oor Wullie'. The Millies linked in groups much as they might have done on exiting the factory after a long, tough day at work.
Journeys in Design is very grateful to the women from Scotland and N.Ireland who offered their maker skills to create such a varied first display of Millies.
2020 Making Millie Journeys in Design called for your help to expand our display, honouring the key role of women working in the textile industries. Your response during the Covid 19 pandemic lockdowns and beyond was phenomenal, so much creative energy released by your making and story telling.
Our 2020 pop-up displays in R-Space Gallery in N.Ireland and Kirkcaldy Museum in Scotland can be viewed on our Events page. Fifty two dolls made it to Kirkcaldy and more Millies joined the troupe by the week.
2021 Millies coming Home Journeys in Design inaugurated Scotland's first Flax and Linen Festival in 2021 and Making Millie took center stage in the Flax Festival Exhibition at Stocks Warehouse, a former linen works in Kirkcaldy. The striking original images of Millies at work in the very building in which the dolls were displayed made for a powerful statement and many former Millies offered their stories during visits to the Festival.
It was an special honour to feature a band of 18 Linen Millies from Shrewsbury Flax Mill –  these Millies form a detailed piece of research and making and a creative expression of shared heritage with our  special 'cousin linen works' in England.
2022 One Millie, All Nations Journeys in Design made contact with Refugee Festival Scotland in 2021 and were introduced to a refugee support group based in Paisley, Renfrewshire called Sewing2gether All Nations. The energy and commitment of organisers Gabi and Corrine was matched by the joy and creative fellowship of refugee women: textiles and techniques combined to tell migration stories.
One Millie All Nations won Scotland's top award at UK Creative Lives, Awards Ceremony 2023, huge congratulations to all the Makers and especially to the talented team of Sewing2getgher All Nations.
2023 Millies on Tour We are delighted to accept an invitation from Historic England to join the inaugural year of Exhibitions and Events, celebrating the ongoing £20M development of Shrewsbury Flaxmill Maltings. This internationally significant regeneration of seven buildings is located in the early engineering heartland of England.
This 'home town tour' for the Shrewsbury Millies in the company of their sisters from Scotland and beyond heralds an exciting set of new international journeys unfolding in the months to come. Full details as they are released in our Event Bulletins (subscribe HERE) and on your social media @journeysindesign.
To all the makers who have contributed to date – Thank You!
Your doll is handled with care, in safe keeping between exhibitions
Are you willing to make up and mark a doll and to tell us your story for display during exhibitions?
Please email for more details using our address: info@journeysindesign.com
Linen Millie Tea Towels are also available to purchase