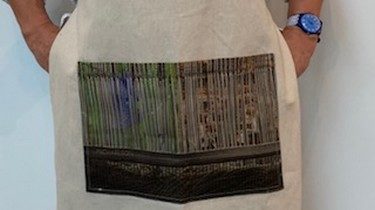 Silverburn Park sits on Scotland's favourite coastal pathway in Fife, near the town of Leven, land gifted to the locality in 1970s by the Russel family and now under the management of Fife Employment Access Trust.
2022 has begun with very exciting news indeed. Silverburn Flax Mill, one of Scotland's last remaining flax-industry buildings, has been given a National Lottery Heritage Fund grant of just over £3.47 million to bring the derelict building back to life. Everyone involved is thrilled and work will begin on The Flax Mill towards the middle of this year.
An extraordinary team lead these efforts including Duncan Mitchell of FEAT, Brian Robertson, Chair of Flax Mill CIC, Dougie Saunders of Friends of Silverburn Park (FOSP) and Martin McDonald, Silverburn Park manager. Duncan, Brian, Dougie and Martin have worked tirelessly and marshaled the talents of many others to bring Silverburn Park and The Flax Mill back to life as a community-driven resource with well-being at its core, 'heart, mind and soul'.
2021 Several inspiring projects have been advanced thanks to the hard work of local volunteers, a super friendly and committed bunch known as FOSP – the Friends of Silverburn Park – most ably marshalled by Dougie Saunders and his team. Whether enjoying a stroll in the Walled Garden, a dog walk in the grounds or a ramble through the trees, we're all grateful to Jools in the Cottage Window Café for some of the best scones in South East Scotland (official!). Co-incident with Mental Health Awareness Week 2021, staff and volunteers drew together in a programme of community events: Journeys in Design played their part by offering two Wild Weaving Workshops, ably assisted by local weaver Susie Redman.
2020 Since March 2020, Silverburn has proved a valued antedate to the harsh challenges of the Covid 19 pandemic. Drawing on the Park's beautiful wooded setting and proximity to the coastal pathway, visitor numbers have continued to increase. Despite restrictions, the Park remained accessible and drew the community together with engaging creative interventions including the wonderful Lantern Project, with awesome participatory artist Hannah Ayre at the helm. With hints of lockdown lifting, bookings soared for our Tent and Campervan pitches and Glamping Pods. Facilities have been further improved and Silverburn received an award for Best Campsite in Scotland 2020/21 in the Corporate Livewire Prestige Awards.
2019 Journeys in Design curator John Ennis first came across the park in 2017 while researching for Our Linen Stories programme and was delighted to meet Park Manager Martin McDonald tending to a small plot of flax! At the centre of the park is a disused former Flax Mill, a rare sort of building in Scotland and now the focus of a regeneration project for the whole parkland. Martin continues to bring a brilliant mix of enthusiasm and practical management skills to Silverburn. John became a director of the FEAT CIC Flax Mill Project in 2019.