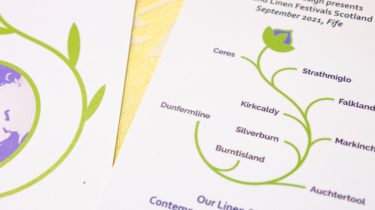 Our Linen Stories programme has mined a rich heritage and contemporary design culture throughout Scotland and made links with like minds internationally, since 2017. At its core, Journeys in Design recognises the power of mindful design and creative fellowship for well-being.
Bringing these realities together in a 'festival' has particular resonance in Scotland, where creative communities have celebrated together in this way for many years. More ancient wisdoms offer the additional context of 'ritual', revisiting to deepen understanding and revalue actions for the common good, so we hope for series of Flax Festivals in Scotland in the years to come.
Flax and Linen Festival #1, September 2021, Fife
Programme Summary below with more detail in our events section:
Festival Exhibition: Our main Exhibition in Stocks Warehouse, a former Linen Works in Kirkcaldy
Flax Fields: 'Wee plots of flax' planted to bloom and harvest in time for our Festival
Linen Routes: New heritage walks throughout Fife, co-mapping with local experts and enthusiasts
Open Doors: Special events in Artists Studios, Silverburn Flax Mill and Auchtertool House
International Roundtable: 'Think Global, Grow Local', participants explore shared flax cultures
Twilight Talk: 'Making Well with Heritage', expert panel engages on well-being and culture
Festival Encounters: informal conversations with experts and enthusiasts visiting the Festival Hub
Our Linen Stories programme began in 2018 and our first visit to the Kingdom of Fife was to the Merchant's House in Laws Close, Kirkcaldy, aiming to encourage Fifers from across the county to tell their stories. On visiting points of interest to distribute fliers we uncovered real passion for heritage and design all around the Kingdom. We were back in 2019 to the Olympia Arcade and popped up in 2020 in the Kirkcaldy Museum and Gallery. Given the extraordinary extent of flax and linen culture and the enthusiasm of those we had met in previous years, Fife was the clear choice for our first Festival. Community engagement in planning and numbers attending exceeded expectations – so thank you to all who co-designed Scotland's first Flax and Linen Festival.
When, where and how for Festival #2?
We would love your help to make this a regular feature in Scotland's cultural calendar!
The energies met during this first festival have enabled a number of new projects.  Current soundings suggest that a three year period might allow interim projects to fully develop in good time for presentation.
Fife remains full of potential as a host county and the efforts of our co-hosts this year were matched by calls from those elsewhere to engage in further Festivals. Our Linen Stories programme has established good links in other parts of Scotland to broaden any Festival base.
Journeys in Design has liaised directly with organisers of The Linen Biennale in N.Ireland and the Biennale Internationale du Lin de Portneuf in Canada, and we're keen to learn from those involved in similar events elsewhere in the UK. We hope to work more closely with local and national support agencies and tourist bodies in the coming months.
We are currently following up on the many ideas and energies released by the first Festival and will update here and via our Newsletters. We hope to organise for the next Festival in 2024, a triennial celebration bringing new creative projects to fruition in the coming months.