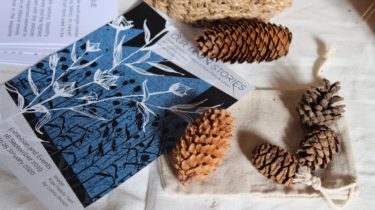 A walk, a weaving workshop and an informal talk about weaving.
Attendees weave on a simple frame using materials found during a preceding walk,
Inspired by the weavers met during Our Linen Stories tours, Journeys in Design is supporting the development of local 'Wild Weaving' workshops, harnessing the powers of walking and weaving to enhance well-being. We engage local weavers to lead our workshops and invite them to share their Weavers Tales.
Our inaugural Workshop in September 2019 was devised with the expert guidance of Akshata Mokashi MA (Distinction) Heriot Watt University, Textiles and Design. We were delighted to partner with Artiscience Library at Summerhall walking before the workshop in The Meadows parkland nearby.
In September we were joined by Guest Weaver James Donald of PickOne Productions to discuss elements of Weaving practice and retail.