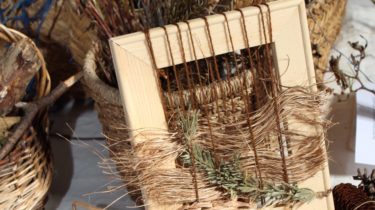 Wild Weaving Workshop // Summerhall / Friday 11 October 11am to 12.30pm
Join us on a slow walk in The Meadows with collection of grasses, string and other detritus en route, then gather in the ArtiSceince Library at Summerhall for a simple weaving workshop. Assemble at Summerhall Entrance at 11am. Dress for the weather and wear comfortable shoes, all materials provided.
Your guide for the morning will be weaver and MA candidate Akashata Mokashi of Heriot Watt University School of Textiles and Design and we will be joined by guests weavers to discuss their practice.
Inspired by the weavers met during Our Linen Story Tours in Scotland, Journeys in Design is supporting the development of local 'Wild Weaving' workshops. With trained guides and enlisting weavers local to each of our partner venues, small local groups weave the weft of a pre-warped frame using materials found during a preceding walk outdoors, harnessing the hand-crafting and meditative benefits of sharing time with others through walking and weaving.
Summerhall Venue Details https://www.facebook.com/summerhalledinburgh/