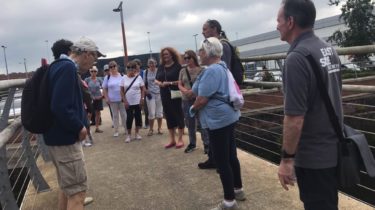 The Connswater Greenway is a 9km linear park in East Belfast, following the course of the Connswater, Knock and Loop Rivers, and connecting green spaces. Transformation into a vibrant, attractive, safe and accessible parkland in well underway. Local residents and visitors alike use the area for leisure, recreation and community events and activities. In former times the area was associated with major flax and linen and allied industry.
During East Side Arts Festival 2020, members of the local community were invited to attend, walk and share stories together, plotting a Linen Walk By Design in East Belfast: local people co-designing a new walk. Journeys in Design and the Connswater Greenway team hosted the event on Wednesday 12 August, bringing local linen stories and heritage to life in and around the Connswater Community Greenway.
Co-design means taking a lead from local people: 25 people joined the event, and offered their creative contributions. The resultant Linen Walk by Design was published and the inaugural walk was completed by around 20 enthusiasts in October 2020.
You can find out more about the Connswater Community Greenway by visiting their website at http://www.connswatergreenway.co.uk/. Photos from the event can be viewed in the gallery below.