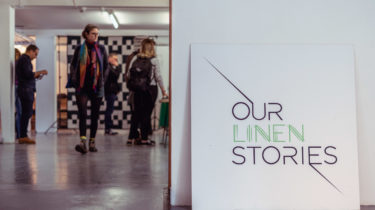 A touring exhibition showcasing new uses for Scotland's oldest fabric makes its Edinburgh stop this weekend in Leith. We return to Custom Lane on Saturday 25th and Sunday 26th May with a pop-up exhibition and new displays focusing on migration, creative energy and maritime cultures.
We presents the first view of a brand-new textile woven in Scotland by a Leither. The exhibition includes a projection of last year's event, the Edinburgh City Maritime Heritage Box, on loan from City of Edinburgh Council, and a maritime display from SS Explorer. We are honoured to support COLOURS of Edinburgh, an innovative social enterprise which aims to eliminate refugee misconceptions by giving a platform to share their stories through art, digital media and research.
On Saturday 25th, we will also be supporting visual artist Rosemary Taylor's photo-booth project capturing images of working women's hands.