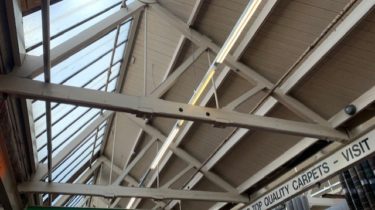 September 2021
About this event
Our Festival Exhibition opened to view Fridays to Sundays throughout September 2021 within the former Stocks Linen Works now a Carpet Warehouse at the far end of Links Street Kirkcaldy. Exhibition curator John Ennis offered Intro and Insights Talks and regular Exhibition Guidance was offered by Jenna McCormick, supported by Tina Scopa and Abid Nazir.
Our evolving Exhibition was held in the former Abden Linen Works at Stocks, acknowledging Kirkcaldy as one of Scotland's premiere Linen Towns and Fife as a true Flax County.
The Festival Exhibition expanded and developed Our Linen Stories core with displays entitled 'Flax Fields', 'Looming Large', 'Working Women' and 'Global Threads', all given a particularly local twist.
A trough of flax grew on site throughout the month representing the local communities growing flax in time for the festival in Ceres, Markinch, Auchtertool and Edinburgh.
We presented specially commissioned work from artist Tina Scopa based on the life cycle of the flax plant, utilising linen paper produced for us by Alison Newman of PULP in Glasgow.
We were also honoured to exhibit printed works by Kirsty Nicol based on the interiors of Peter Greig's St Clair Street Factory.
With 'Linen WORKS Kirkcaldy', we called for your memories and artefacts to help recreate the town's lost Spinning Mills, Dye Works and Weaving Sheds. A big thank you for your help in creating this special archive of stories and items from those who know best.
With Flax Futures we offered examples of contemporary designs including Flax Chair and Flax Skis and examples of the community education and tourism initiatives allied to Flax and Linen Towns elsewhere in Europe.