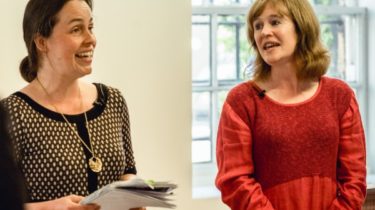 Dear Friends,
Thanks to all who made our Opening Weekend so special: over 200 folk enjoyed the sunshine on Leith and the fun inside Custom Lane. Particular thanks go to Deirdre Brock, Member of Parliament for Edinburgh North and Leith who 'cut the linen ribbon' at noon on Saturday 5 May to launch Our Tour.
Deirdre also provided our first Local Linen Story – though Australian born, her forebears were Huguenots, one of the families emigrating from Northern France who brought linen weaving skills to Scotland; these emigres are remembered in the street name Picardy Place at the top of Leith Walk in central Edinburgh. We highlight this story in our European Unions exhibition station.
We look at Contemporary Sense of Place in next Thursday's Twilight Talks about Design asking if Craft and Design skills can define place and enable new industry. Place Making and Creative Industry: Thursday 17th May 6.30pm to 8pm Details here 
Many thanks also to our linen story-tellers Claire McNicol and Katherine Campbell, captured mid-song by our talented house photographer, Max Ragni of KISS Photography and Design. You can hear these wonderful Linen Songs recorded specially as part of our Plant and Process station – a sensory journey taking you from flax cultivation to industrial manufacture.
We hope you are enjoying our Journey,
With best wishes,
John and Eilidh
Journeys in Design
Image by Max Ragni of KISS Design and Photography for GP Journeys in Design