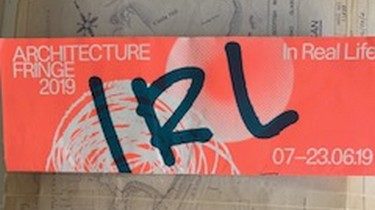 Circular Economy and Construction
Only 1% of buildings in Scotland are new, 40% of landfill in Scotland is produced by the construction industry and Concrete is the third biggest contributor to landfill internationally. Yet the buildings about us are regularly demolished and replaced by those of less enduring design. How can we avoid the wrecking ball in favour of intelligent salvage of existing building stock?
A 'linear economy' is summarised by the phrase 'buy it, use it, throw it out'. Scotland is a nation at the forefront of drives for a circular economy, when this summary phrase morphs into 'buy it, use it, recycle it, remodel it, repurpose it, re-use it' minimising harmful disposal by prolonging lifespan.
Emerging from Our Linen Stories in Kirkcaldy, the first iteration of a proposed annual exhibition series was called 'Arcadia' and ran through June 2019 as part of Architecture Fringe 2019 in Unit 11 of Olympia Shopping Arcade Kirkcaldy. We asked how the town and others in Scotland repurpose former Linen Buildings?
The Arcade is Scotland's second covered shopping street, opened in 1894 and is re-emerging as the town's vibrant 'Creative Quarter'. The Arcade is itself part of the former Abbottshall Linen Works, repurposed again today in pursuit of emerging creative talent. Kirkcaldy offers fine examples of intelligent repurposing of it's built environment and 'Building Sights' celebrates many more examples both here and throughout Scotland.
'Arcadia' refers to an environment in harmony with nature.
A riff on our venue name, Arcadia was an Ancient Greek province, mountainous and sparsely populated, was a place associated with natural splendour and harmony inhabited by those without the pride and avarice that corrupted other regions: a country not unlike Scotland? As architects and designers grapple with our pressing need to walk more lightly on the earth, it's clear that the harmony we seek in our individual lives is deeply influenced by the structures we move in, on and around as a community.
With 'Arcadia', Journeys in Design was delighted to inaugurate an annual exhibition called "Building Sights: Envisioning a Circular Economy of Construction" through which we explore the repurposing of our built environment.