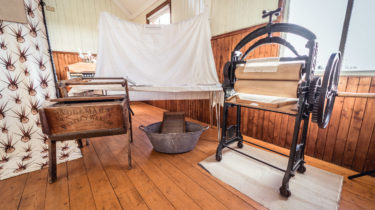 Three hundred years of Laundry Culture
'Airing Our Linen' was our display at the Highland Folk Museum in 2018, combining items from Our Linen Stories with items from the Highland Folk Museum and Inverness home collections including a wooden washing machine, a glass scrubbing board and a cast iron mangle.
Washday Monday
Why are Mondays traditionally set aside as washday? Old habits die hard it seems: most dirty linen in the Great Houses of seventeenth century Europe was produced at the weekend, after guests had left and weekend pursuits were over, so Monday was given over to the arduous task of laundering the linens by women in service. At that time this work would often encroach into Tuesday with the labour of drying, pressing, folding and storing of treasured table linens (napery).
'A Woman's Touch'
Laundry has been tasked to women from early times and as such also offered a social component when other opportunities for women to meet together where limited. This Laundry Culture is well marked in Scotland, from the blether of riverside scrubbers, through 'Talk of the Steamie', to the banter shared in all-electric Launderettes. Chat out on tenement drying greens and over the suburban garden fence have allowed a community spirit to persist. As washer/dryers at home have replaced more public laundry spaces can we note that a welcome liberation from household chores may have led to relative isolation for some?
Material Sustainability
Also on display was the embroidered linen Auchtertool table cloth, featured during our tour to Kirkcaldy and on private loan from Fife: it's seen almost 200 years of regular use and laundering. How's that for sustainability?
Skill Sets
We may love linen but we don't always love how devilishly difficult it is keep laundered and particularly to keep crease free. Laundry skills are not to be underestimated in particular where ceremony and ritual is concerned: as noted in our tour to Lisburn, Altar Linens need specialist care. When in Selkirk we exhibited the Duke of Buccleuch napery kindly on loan from Bow House: no grand dining occasion could proceed on anything but the most pristine of pressed linen.
Many generous attendees during our tour dates in Scotland have brought treasured linens from wedding chests and old family presses: it's clear that our more modest Sunday Roast Dinners may still demand a well-pressed damask!
Flax Futures Project Proposal:
'Laundry Tub/Culture Hub'  Shared Material Cultures, Scotland in Europe
It was a great honour to collaborate with HFM in an exploration of how our Museums can contribute to the cultural life of their local communities. A big Highlands thank you in particular to Rachel, Matthew, Maureen and Jo and the great team at HFM.
In 2019 we further explored links with key museums in Holland, Belgium and France. Of particular note must be the income generating service operated by Textiel Museum in the Dutch town of Tilburg: this canny institution offers a specialist linen laundry service for its esteemed clientele. We currently propose a link with Govanhill Baths and Steamie (Community Hub, Glasgow, Scotland), Scotland in Europe, engaging in our shred material culture.