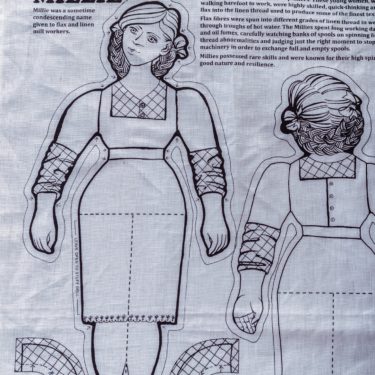 Journeys in Design commissioned illustrator Sue Shields to create a tea towel tribute to the working women of the linen industry. The design includes a cut-out pattern and instructions to assemble our Linen Millie doll. These dolls are a focus for crafting skill, productive fellowship and memories old and new, all part of Our Linen Stories.
Linen mill workers – Millies – formed the backbone of the first industry to emerge from Scotland and Ireland and much of Europe: hard-working, multi-tasking and super-skilled. At the peak of linen trading in the early 20th century, tens of thousands of women were employed to support the economy of a continent. Though a tiny fraction of jobs persist, many of us have a Linen Millie amongst our families or those of friends.
2019  'Oor Millie' is a special display created for Our Linen Stories Edinburgh at Dovecot Studios, comprising 20 individually made and  marked Linen Millies. The Millies link in groups much as they might have done on exiting the factory after a long, tough day at work.
Journeys in Design is very grateful to the 20 women from Scotland and N.Ireland who offered their maker skills to create such a varied display of Millies . Linen Millie K1 is better known as June and was embroidered by the first of our local makers from Kirkcaldy.
2020 Making Millie. Our Linen Stories seeks to gather more stories in celebration of these hard working women. Journeys in Design is calling for help from more makers in Scotland and N.Ireland to expand our display for exhibition in the autumn.
If you are willing and able, please email us for more details using our dedicated address: info@ourlinenstories.com